I close out my first year at Seattle Met with the April issue, which hits stands this week.
Here's an illustration I did for the Mudroom opener:
I sketched out a concept for an article about restaurants leaving Belltown for South Lake Union, and had my intern Maya Kimmel get started on vector signage in Illustrator.
I swapped around the order, dropped in neon lettering I made for my Las Vegas Weekly redesign back in 2006, then added lighting effects in Photoshop.
Here it is on the page:
My intern Lia Cerizo illustrated Milton and the background for this piece. Then I assembled them into a single file and added type, graphics and distress.
I worked with my designer Melissa Robinson for this road trips opening spread. I thought it'd be impactful to explode the headline and folio into something huge and unexpected.
Melissa handled the rest of the feature herself. Turned out really nice:
For her first assignment with the magazine, my photo intern April Brimer came up with a great concept for these shots she took of an actor who's performing in a one man show:
Although I shot plenty of models for Las Vegas Weekly, it was never fashion photography. So for this issue I participated in my first fashion shoot, photographed by Melissa O'Hearn:
Laura Cassidy, the fashion editor, had the idea to work plants into the shots. I suggested we go extreme and abstract with the plants, and had the photographer shoot through leaves that were almost touching the glass of her lens.
The result is this blurry, colorful frame:
For this photo, I had her shoot with a scarf pressed up to her lens, obscuring half the frame: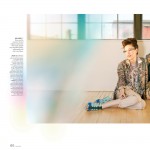 It was a fun project, and much less stressful simply art directing the photos, rather than art directing and shooting the photos. This was the first feature I've designed that has substantial white space, too. I was a little nervous going into this, but now I'm really looking forward to my next fashion feature.
For our new feature Quote Unquote, we get to know Keli Carender, aka Liberty Belle. She's credited with launching the Tea Party movement last summer. Photographer John Keatley had the great idea to put her in period clothing, rented from the University of Washington's theater department. I added, "We should make it look like an old painting, and have her drinking hot tea!" (I added the texture to the background and steam to the cup in Photoshop). Here's how it turned out:
I also shot video of John taking this photo:
The day after that shoot, I went to work a little later than usual, and was lucky enough to snap a photo of something I've been hoping to get since I've lived here: The guy changing the Lusty Lady marquee.
Looking forward to exciting new things in my next year at Seattle Met …